Grab yourself some fabulous show offers

With less than a week until the show, retailers and buyers visiting Harrogate International Nursery Fair can grab themselves some fan0tastic bargains, with many exhibitors offering exclusive show offers. This can be anything from discounts on orders placed, no MOQ and free delivery to competitions to win some great prizes.
SHOW OFFERS are constantly being added to the website so be sure to keep checking.

Muddy solution
Pram Sled's award-winning Flex Fit® is an innovative solution to one of the most common and unavoidably repetitive challenges facing new parents. It provides an elegantly simplistic approach for bringing a pram into the home while protecting the floor from wheel dirt. It works hands-free and eliminates the tasks of wheel washing, applying covers or pram dismantling. It promotes more baby sleep by minimising disturbance when returning home, as well as enabling safer sleep though closer monitoring. Just ride the pram onto the Pram Sled® and slide it straight into the home for a hassle-free transition every time!
Visit Pram Sled on Stand H43

Carbon strollers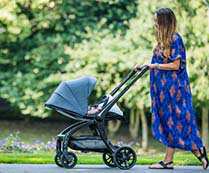 JUNIORJONES is pleased to be attending Harrogate International Nursery Fair this year for the first time! Its range of strollers include the J-CARBON, a fully-formed carbon fibre and configurable stroller, the J-SPIRIT, the J-CUB and the Award Winning J-TOURER. The range is backed up with coordinating accessories including Changing Bags, a Ride-on Board, Sun Canopy, Thermal Shopping Basket and Cup Holder.
The team is looking forward to welcoming retailers on to the stand to demo the range and discuss their extensive retailer support strategy.
Visit JUNIORJONES on Stand H8

Comprehensive collection
Miniuno is a modern nursery brand dedicated to providing high quality nursery goods at attractive prices. With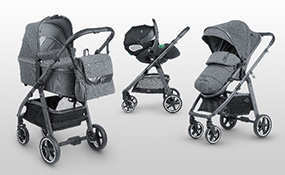 in-house product design and development, miniuno has become well known for its collection of travel systems, strollers, home goods and sleeping products. With high quality fabrics and finishes as a priority, miniuno strives to provide maximum comfort for babies 100% of the time, whilst remaining affordable for parents.
Babyauto has become one of the most recognised car seat brands in Europe thanks to its collection of cutting-edge automotive safety products, providing unrivalled comfort, value and above all, peace-of-mind for parents who drive with their children. Visit Miniuno, Babyauto & Casa Tomara on Stand D15

Refreshed classic
Cozy N Safe has just launched its new design of one of its bestselling seats. The new look Excalibur 25kg Harness Black Grey is still made from the most luxurious, soft touch materials to keep little ones as Cozy as possible. The new modern and sleek look is sure to please even the harshest critics no matter their age. Visit Cozy N Safe on Stand D8