Car Parks
There is a 24-hour pay and display car park directly below the Harrogate Convention Centre and a further 1,200 parking spaces in the centre of Harrogate.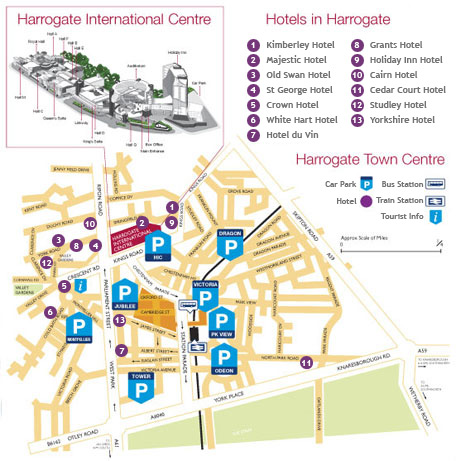 Sat Nav Information
Harrogate Convention Centre Car Park 1 - HG1 2HR
Harrogate Convention Centre Car Park 2 - HG1 2HR
Jubilee Car Park - HG1 1DJ
Victoria Car Park - HG1 5LQ
Please remember to check closing times of your car park if you are intending to stay late as vehicles locked in car parks will be charged a release fee.
Rapid Charging for Electric Cars

The council has installed rapid chargers at the Civic Centre, just one minute drive from Harrogate Convention Centre. There are three dedicated electric vehicle recharging bays. The chargers are ABB Terra 53 units which offer DC (CHAdeMO and CCS) charging at 50 kW and AC charging at 43kW. These chargers should therefore be able to be used by most electric vehicles.
The postcode is HG1 2AE and the chargers are located in the lower level car park. Exit Kings Road onto St Luke's Avenue and you will see the Civic Centre in front of you. The charging point bays are on your right as you enter the site.