Show winners

The first day of Harrogate finished with celebrations as the winners of the Baby Products Association's annual industry awards were announced.
The winner of the Concept & Innovation Award is Christopher Melia with Cot Cool a clever device to lower the temperature in a baby's sleep environment during hot weather. Christopher was presented with a trophy and will also receive free legal advice as his prize from sponsor law firm 3Volution.
The results of the Baby and Nursery Trade Awards (BANTAs) are as follows: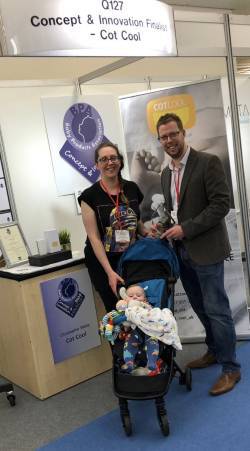 TRAVEL
Highly commended:
Bugaboo – with the Bugaboo Fox
Hippychick with the Zellie Sandown Changing Bag
Winner
CHILD RESTRAINTS
Highly commended:
Magicbaby – with Venicci Silver Spark
The Red Kite Baby Co with Push Me Savanna
Winner
Cosatto – with the Dock Car Seat
HOME & NURSERY
Highly commended:
Winner
Cuddleco with Childhome EVOLU ONE.80
SAFETY
Highly Commended:
Topcom – Video Baby Monitor
Winner
Obaby – Moisture Management Dual Core Cot Mattress
BEST NEW PRODUCT
Highly commended:
Magicbaby – with Venicci Asti Light Grey
Topcom – with Infrared Thermometer
Winner:
Cuddleco – Hamilton Go Easy Stroller
All of these products can be seen at the show tomorrow – the doors are open from 9.30am to 5.30pm, and 9.30am to 4pm on Tuesday.
We look forward to seeing you!